Drawing is a form of visual art that makes use of any number of drawing instruments to mark a two-dimensional medium. Common instruments include graphite pencils, pen and ink, inked brushes, wax color pencils, crayons, charcoal, chalk, pastels, various kinds of erasers, markers, styluses, and various metals (such as silverpoint). An artist who practices or works in drawing may be called a draftsman or draughtsman. A small amount of material is released onto the two dimensional medium, leaving a visible mark. The most common support for drawing is paper, although other materials, such as cardboard, plastic, leather, canvas, and board, may be used. Temporary drawings may be made on a blackboard or whiteboard or indeed almost anything. The medium has been a popular and fundamental means of public expression throughout human history. It is one of the simplest and most efficient means of communicating visual ideas. The relatively easy availability of basic drawing instruments makes drawing more universal than most other media.
Drawing is a form of visual expression and is one of the major forms within the visual arts. There are several categories of drawing, including cartooning. Certain drawing methods or approaches, such as "doodling," other informal kinds of drawing, and the surrealist method of "entopic graphomania", in which dots are made at the sites of impurities in a blank sheet of paper, and lines are then made between the dots, may or may not be considered part of "drawing" as a "fine art". Likewise, tracing—drawing on a thin piece of paper, sometimes designed for that purpose (tracing paper), around the outline of preexisting shapes that show through the paper—is also not considered fine art, although it may be part of the draftsman's preparation. The word drawing is both (1) a noun and (2) the present-participle and gerund forms of the verb draw.
To draw is to produce a drawing. A quick, unrefined drawing may be called a sketch. Drawing is generally concerned with the marking of lines and areas of tone onto paper. Traditional drawings were monochrome, or at least had little colour, while modern colored-pencil drawings may approach or cross a boundary between drawing and painting. In Western terminology, however, drawing is distinct from painting, even though similar media often are employed in both tasks. Dry media, normally associated with drawing, such as chalk, may be used in pastel paintings. Drawing may be done with a liquid medium, applied with brushes or pens. Similar supports likewise can serve both: painting generally involves the application of liquid paint onto prepared canvas or panels, but sometimes an underdrawing is drawn first on that same support. Drawing is often exploratory, with considerable emphasis on observation, problem-solving, and composition. Drawing is also regularly used in preparation for a painting, further obfuscating their distinction. In fields outside art, technical drawings or plans of buildings, machinery, circuitry and other things are often called "drawings" even when they have been transferred to another medium by printing.
wikipedia.org
You can start with the basics here
Thievery Corporation is a Washington, D.C. based recording artist and DJ duo consisting of Rob Garza, Eric Hilton, and their supporting artists, Frank 'Booty Lock' Mitchell, Jeff Franca and Ashish Vyas. Their music style mixes elements of dub, acid jazz, reggae, Indian classical, Middle Eastern, and Brazilian (such as bossa nova).
Thievery Corporation was formed in the summer of 1995 at Washington D.C.'s Eighteenth Street Lounge. Rob Garza and Lounge co-owner Eric Hilton were drawn together over their mutual love of club life, as well as dub, bossa nova and jazz records. They decided to see what would come of mixing all these in a recording studio, and from this, the duo started their Eighteenth Street Lounge Music record label. The duo drew attention with their first two 12" offerings, "Shaolin Satellite" and "2001: a Spliff Odyssey" and with their 1997 debut LP, Sounds from the Thievery Hi-Fi. In 2002 they released The Richest Man in Babylon on their ESL label. This fifteen track album is similar in sound and timbre to their earlier 2000 release, The Mirror Conspiracy, and features performances by vocalists Emilíana Torrini, Pam Bricker, and Loulou. In 2005 they released The Cosmic Game, which has a darker, more psychedelic sound than The Richest Man in Babylon. The album also featured more high-profile guest singers on it, including Perry Farrell, David Byrne, and Wayne Coyne of The Flaming Lips. In 2006 the group released Versions, a selection of remixes done by Thievery Corporation for other artists. They toured around the United States, playing at Lollapalooza. The tour was photographed by Rob Myers, Thievery Corporation's sitar and guitar player, in the Blurb photo book Thievery Corporation 2006.
In 2006, the band also recorded "Sol Tapado" for the AIDS benefit album Silencio=Muerte: Red Hot + Latin Redux produced by the Red Hot Organization. The group released their fifth studio album, Radio Retaliation, on September 23, 2008. It was nominated for the Grammy for best recording package. Thievery Corporation's tour started out with 5 consecutive sold out shows at the 9:30 Club in Washington, DC. The language of the group's lyrics throughout their career include English, Spanish, French, Persian, Portuguese, Romanian and Hindi. This reflects the group's world music influences. They were the opening act on August 1, 2009 for Sir Paul McCartney at FedExField in Landover, Maryland. On July 27, 2010, Babylon Central, the cinematic directorial debut of founding member Eric Hilton, was released. Set (and shot) in Washington, D.C., the film follows tripwire events in the interconnected lives of its characters, each influencing power brokers' schemes to manipulate international currencies. In June 2011, Thievery Corporation released their sixth album, Culture of Fear. In January 2012, Thievery Corporation launched a remixes contest in conjunction with Dubspot.
en.wikipedia.org
Taken 2 is a 2012 English-language French action film directed by Olivier Megaton which stars a wide international cast including Irish actor Liam Neeson, actress Maggie Grace, actress Famke Janssen and Rade Šerbedžija. It is the sequel to the 2008 film Taken, and was released on 3 October 2012.
Plot
After the events in Paris in Taken, relatives of the men whom Bryan Mills (Neeson) killed while searching for his daughter, Kim (Grace), return to their hometown, Tropojë, Albania, for the dead men's funeral. During the ceremony, Murad (Šerbedžija), the employer of the men and father of Marko, a victim whom Bryan killed by electrocution, states that they will find Bryan to avenge the deaths of their loved ones. When arriving at Kim's home to take her on a driving lesson, Bryan learns from her mother Lenore (Janssen), who is currently having relationship problems with her husband, that Kim is not there and that she has a new boyfriend. After Lenore's husband cancels their holiday to China, Bryan suggests that Kim and Lenore join him in Istanbul after he has finished a work assignment there.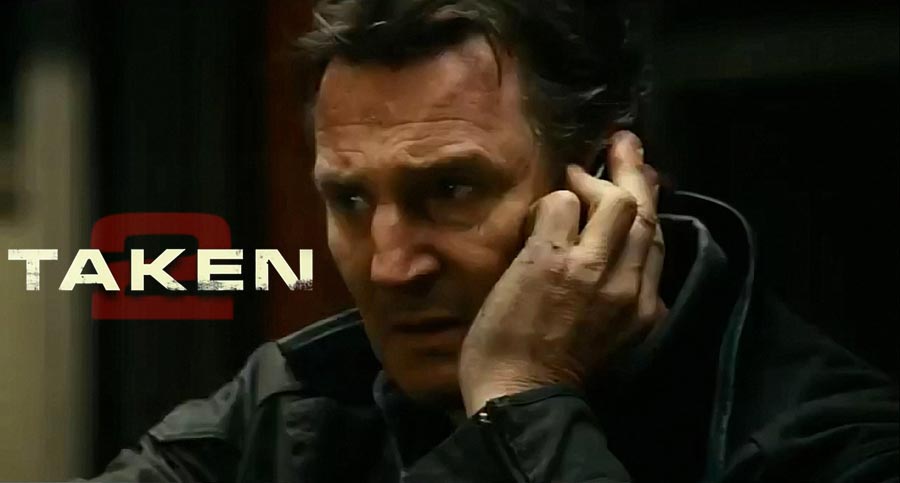 After being led to believe that they have not taken him up on the offer, Bryan is surprised to find that Kim and Lenore have indeed flown out to join him. Later, after lunching in the marketplace, Kim stays behind at the hotel in an attempt to help her parents rekindle their relationship. While Bryan and Lenore are out, they are pursued by Murad's men, and, despite Bryan's efforts, Lenore is captured, forcing Bryan to surrender. Before he does so, he calls Kim to explain the situation and tells her to hide. With advice from Bryan, she is able to evade the kidnappers. Bryan wakes up with his hands tied to a pole in a dark room. Using a communications device that he has hidden in his sock, Bryan calls Kim, instructing her to go to the US Embassy and tell them what happened, but she begs for a chance to help him and Lenore, which he decides to give her. Under Bryan's guidance, she opens up his weaponry suitcase and throws a live grenade out of the window. Bryan uses the time it takes for the sound of the explosion to to reach him in order to deduce his location. He then has her take a gun and two more grenades and travel towards his location via the rooftops, while he frees himself from his restraints. Bryan then sends steam up a chimney to pinpoint his location, and Kim drops the gun down the chimney, allowing Bryan to use it to kill the guards and escape the building, leaving Lenore behind while he rescues Kim, who is being chased.
wikipedia.org
Pulp Fiction is a 1994 American crime film directed by Quentin Tarantino, who co-wrote its screenplay with Roger Avary. The film is known for its rich, eclectic dialogue, ironic mix of humor and violence, nonlinear storyline, and host of cinematic allusions and pop culture references. The film was nominated for seven Oscars, including Best Picture; Tarantino and Avary won for Best Original Screenplay. It was also awarded the Palme d'Or at the 1994 Cannes Film Festival. A major critical and commercial success, it revitalized the career of its leading man, John Travolta, who received an Academy Award nomination, as did costars Samuel L. Jackson and Uma Thurman.
Directed in a highly stylized manner, Pulp Fiction connects the intersecting storylines of Los Angeles mobsters, fringe players, small-time criminals, and a mysterious briefcase. Considerable screen time is devoted to conversations and monologues that reveal the characters' senses of humor and perspectives on life. The film's title refers to the pulp magazines and hardboiled crime novels popular during the mid-20th century, known for their graphic violence and punchy dialogue. Pulp Fiction is self-referential from its opening moments, beginning with a title card that gives two dictionary definitions of "pulp". The plot, as in many of Tarantino's other works, is presented out of chronological sequence.
wikipedia.org